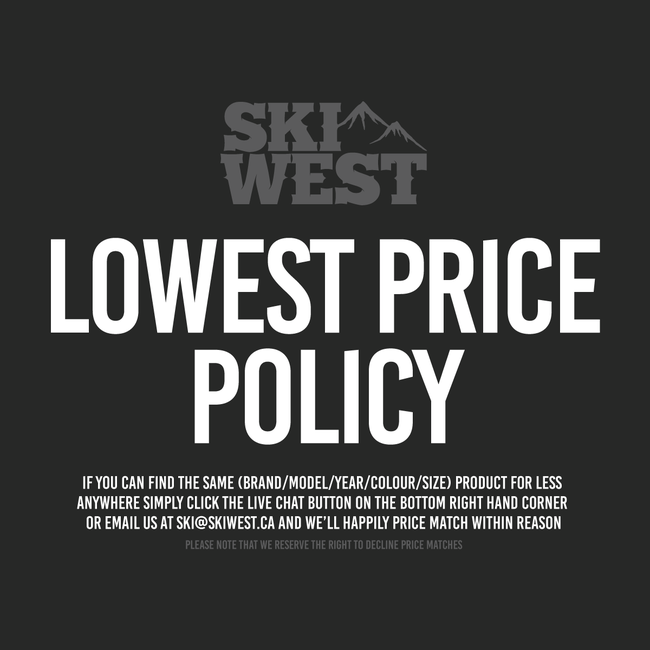 DON'T PAY MORE FOR THE SAME PRODUCT
Here are the details regarding our Lowest Price Policy:

If you can find the exact same item (same brand, model, year, colour & size) in stock in Canada we'll gladly price match (within reason) your landed cost to your door.

We require that said item (same brand, model, year, colour & size) be listed and verifiable on a legitimate website.

Product (same brand, model, year, colour & size) has to be in stock.
When we price match we do not include free service (such as bootfitting, scans, heat-molding, mounts and hot wax) nor do we cover price-matched product with our "Love Your Ski Guarantee" or "Bootfit Guarantee" promises.

POST PURCHASE PRICE MATCH REQUESTS
For any after-the-fact (post-purchase) price-match requests, you must submit a request via Email to [email protected] within 7 days of your initial purchase.

You must include the link to the product you wish us to price match.

Any free services will be deducted from any price-match guarantee price-adjustments. We will charge $9.99 for free ski strap, $80 for mount and wax and $150 for full-fit boot service. The difference will be reimbursed to you on a Ski West gift card.

We reserve the right to exclude free shipping and we reserve the right to  decline to price match any item at our discretion.
Price matches, returns, or refunds for a lower price in-store are not applicable on Boxing Day.